2018 Third-Quarter Newsletter
What We Do at Not-Alone Blind Internet Ministry:
· Provide a weekly devotional podcast message called "You're Not Alone"
· Provide a Bible study podcast called "Room 4216"
· Serve 52 Outreach Centers with a newsletter and leadership support
· Provide pastoral care and counseling to listeners of the podcasts
· Raise financial support and awareness for Not-Alone Blind Internet Ministry
A Busy Summer
When pastors go on vacation, they sometimes ask me to speak in their churches and share what God is doing through Not-Alone Blind Ministry. This summer, I was given the opportunity to visit two Outreach Centers and their congregations, and I spoke at several other congregations as well. I also spent five days at the American Council for the Blind, which met in St. Louis this year. I connected with hundreds of people who are blind and shared with them about Not-Alone Blind Ministries.
The highlight of the summer for me was a joint mission festival for the circuit congregations in and around Bonduel, Wisconsin. The festival was an outdoor service, hosted by Zion Lutheran Church in Zachow, Wisconsin, and Pastor Richard Buhrke. What made this so special was that tow of Pastor Buhrke's grandsons, who are blind, assisted in the service. Isaiah was on keyboard and Bryce read two of the readings. With me doing the preaching, it was a visual demonstration that God uses all people, even those with disabilities.
The message at the festival emphasized Acts 9:1–20. Saul was blinded physically for God to show him he was also spiritually blind. God sent Ananias to speak and lay his hands on Saul so that he might regain his sight. Jesus also said about Saul, later called Paul, "He is a chosen instrument of mine to carry my name before the Gentiles and kings and the children of Israel."
In the hands of our God, we all are His chosen instruments.
Pastor Dave
(Picture at right shows Pastor Dave preaching at the mission festival on a pulpit that members of Zion Zachow made from a tree stump.)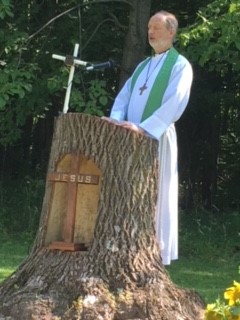 From Janet after a podcast about "Tables Being Turned"
Last spring came a bad thunderstorm and our power went off in the middle of the night! Mom said, "What are we gonna do? We have no electricity and I can't find a flashlight!" Well, I had to chuckle because the tables turned, and she was experiencing exactly what I experience every day! I had to guide her through the house, and it made me feel special that my mom trusted me even though I'm totally blind! Later, I asked if she was scared and she really made me feel good because she said, "No, I knew you'd get me to where I needed to go because you have to deal with this sort of thing every day."
From Tina
Thank you, Pastor Dave! I am sure you already know, but I appreciate your podcasts. I keep you and your family in my prayers. I am doing all right and am homeschooling my thirteen-year-old. I am also job hunting, which keeps me busy, but Christ is always with me. I send my blessings and well wishes your way, and I sincerely appreciate yours. God is always good, and I am listening to your podcasts! Smile and God bless, Tina.
From Liz
Hi, Pastor Dave! I just listened to your podcast on Philippians chapter 3. Thanks for the inspiration. I always thought of faith as something you should already have rather than something to ask God for and strive for. I haven't been striving much lately. Now I have something to chew on in my overcrowded and easily distracted brain. Blessings, Liz.
Outreach Center News
From 2000 to 2012 I traveled a lot and helped set up most of the Outreach Centers around the country. With 50+ active centers, lives are being touched and blessed by Jesus.
This summer, while visiting the Lawrence, Kansas Outreach Center, I reconnected with Lynda. Lynda was blind since birth. It had been ten years since we met and talked. Since then, Lynda hit hard times; she dropped out of college, her husband left her, and she contracted multiple debilitating physical diseases. She had not come to a gathering at the center for years.
Was it coincidence that Lynda showed up the very day I was visiting? Was it coincidence that I spoke of having dreams for life; some fulfilled, some shattered? I don't think so!
With only a few minutes before I had to leave, we shared contact information. I am now helping Lynda through pastoral care to resolve the broken dreams and build new dreams—all via the phone.
Please consider partnering with Not-Alone Blind Internet Ministry to provide hope and restore comfort to those who are blind. You can donate via Givelify.com at the website link below or send a check to this address:
https://www.givelify.com/givenow/1.0/?token=eyJvcmdfaWQiOiJNekF6TVRRfiIsImJhZGdlX2ltYWdlIjoiYjIucG5nIn0~
Blind Ministry
Abiding Savior Lutheran Church
4355 Butler Hill Road
St. Louis, MO 63128